Do you want to provide customer service on your guest's smartphones, tablet, or PC?
Do you want to allow your guests to make spa and restaurant reservations with ease?
Do you want to accommodate guests' requests for fast shuttle service?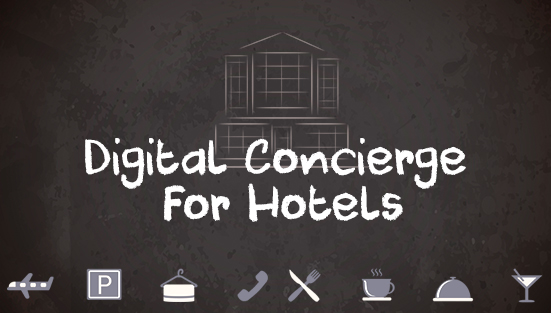 Today's travelers are looking for authentic experiences and easily accessible information. This is where a Virtual Concierge plays a pivotal role in the Hotel and Resort industry.
Providing the best experience to guests means meeting their every need. Their visit can be a huge success before, during, and after their stay. It goes beyond their experience within the property. Virtual Concierges cover this often over-looked or too readily simplified area of the guest's experience.
What is a Virtual Concierge?
A virtual concierge serves guests the same way a traditional concierge does. Except hotels which integrate virtual systems experience increased guest satisfaction, loyalty, and ROI. Solutions can consist of mobile applications, website features, within your hotel lobby, or a screen inside hotel rooms. Implementing these systems improves the guest's experience and the hotel benefits from improved loyalty and increased ROI.
A virtual concierge serves as the present and future of guest's communication.
The Misconception: The common misconception is that having a virtual concierge makes your existing concierge irrelevant. No, it does not have to be that way.
The Fact: A virtual concierge works to complement what you already have - it can have a positive impact even before guests arrive at your property. With a virtual concierge, guests will no longer wait until they arrive at reception to make requests, changes or reservations. Let the technology do the heavy lifting.
What a Virtual Concierge Can Offer?
As a hotel owner, you are familiar with the usual information that guests need, such as restaurants, attractions and hotel amenities. By placing this information at the fingertips of your guests, a virtual concierge brings more efficiency to your daily operations and even provides an opportunity to earn ROI from outside vendors. It gives guests access to your hotel before they arrive. With the option to make requests and reservations within your facilities, they can create their itinerary while staying in your facility or before they arrive which allows them to forget about their worries.
• Guests can find what they are looking for by using the devices they are already comfortable with.
• Provide guests with a feel of the city and its offerings
• Access photos and videos of your property
• Locate directions and view property layout
• Showcase events and meeting room schedules
• Make restaurant reservations and book other hotel services
• Message the front desk or housekeeping for requests
• Check recommended places to visit
• Get information on all hotel amenities
• Change hotel rooms or add additional nights to their stay
• Make pre-arrival, on-stay and departure arrangements
• Discover local area attractions and events
• Games to entertain children
• Advertising space and ROI potential
• Plus, a whole lot more!
A virtual concierge is also a big help for event planners, removing stress associated with planning, booking, coordinating, room blockings and requests.
Major Features and Functions of a Virtual Concierge
1. Pre-Arrival Requests
Guests can send requests through the virtual concierge. This reduces time spent waiting at the front desk.
2. Local Info
First-hand knowledge of the local scene benefits guests. In fact, this is one most sought after services that a traditional concierge provides. Through the virtual concierge, you can provide information for recommended or affiliate: restaurants, nightlife, activities, a list of attractions, financial services, etc. - which they can access quickly instead of sorting through traditional search engines.
3. Hotel Amenities
Virtual concierge is a good way to promote all the amenities that your property provides. Support it with stunning images, cuisine overviews, salon offerings, etc., which guests will surely love. Have them check all these and make reservations 24/7.
4. Housekeeping and Room Services
Guests can easily place an order with the click of a button. Customers love confirmation of orders received and estimated wait times for requests such as pillows, linens, and sundries among other things.
5. Trip Planning
Your recommendations will be valuable to your guests. With the help of a virtual concierge, guests can create their itineraries by checking out activities based on your recommendations and affiliate offerings. This can include - "Local City Nightlife Activities,"Places where the Locals Shop,"Sight-Seeing for the Family,"Kid-Friendly Museums," and anything that will ensure that their trip will be a memorable one.
Virtual Concierge Platforms
For example, Hyatt Hotels have a twitter-based virtual concierge service, while Marriott hotels have a virtual concierge through website and apps.
Mobile
Mobile apps offer the most convenient way for guests and visitors to engage and interact with your property. Apps can be custom-designed and integrated for iPad, iPhone, and Android to suit whichever device your guests are comfortable with.
Room TV displays
For guests who choose to unplug from their mobile devices, they can access the virtual concierge through their rooms' TV displays using the remote control. You can turn each room into a fully connected, interactive information and entertainment center.
Touch screen interactive kiosks
Bring interactivity and engagement into your lobby displays. Provide guests with access to all the information they need including interactive entertainment, hotel services, local information, and other features.
Website
Adding elements of a virtual concierge to your website and showing them as guests' log-in from the hotel Wi-Fi will help them feel at ease.
Major Benefits
Industry leaders believe that a virtual concierge is also the best way to reach the new millennial and global travellers. Benefits include:
• Showcase your property in style
• Enhance guest's and visitor's experience
• Improve business image
With a virtual concierge, not only will your property receive 5-star ratings but will stand out as a leader in the hospitality industry.