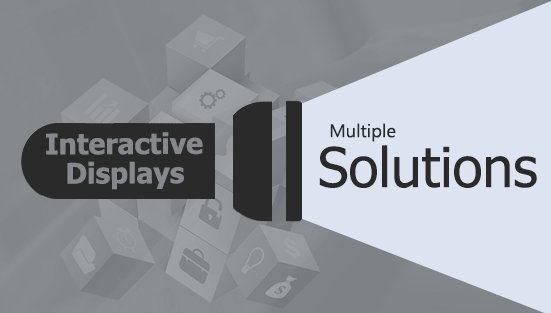 Touchscreen interfaces are becoming increasingly popular in people's lives.
As users depend on the interactivity of their mobile devices, they come to expect the same experience wherever they go.
This is one major reason interactive touch screen solutions are becoming popular in many places such as malls, retail stores, hotels, universities, hospitals, and airports. The users instantly recognize these systems and intuitively know how they work.
Interactive touchscreen solutions serve as the signature technology of modern digital communications. Part of this has to do with people's familiarity with their smartphones, but also because of the versatility and commercial value offered only by digital signage.
Wide Range of Touch Display Solutions
In the signage industry, real-time content updates can now be managed locally or virtually from anywhere. Through the power of touch, self-service can be enhanced for customers, guests, and viewers. Activities such as making reservations, retrieving information, concierge services, and even wayfinding can now be fulfilled with the press of a button.
An interactive screen can be surface mounted or incorporated into kiosks, and deployed in a broad range of screen sizes, from tablet-sized screens to large-scale display walls which are accessible to multiple, simultaneous users. These systems, simple or complex, improve operations and can deliver high returns for many industries:
Retail Stores
Owners of interactive kiosks in retail stores benefit from the ability to reach customers with targeted information,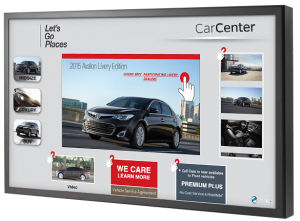 increase revenue, and sales opportunities, and improve loyalty through enjoyable customer experience. Customers use touch screens to check product pricing, availability, and feature comparison, as well as discover special offers relevant to search queries. Store owners can analyze user data to track consumer behaviors and shopping information. The most common use of touch screens today is at the point of sale, which is a lost opportunity for those above. Therein, retailers are beginning to deploy more advanced touch screen systems earlier in the customer's shopping process for a greater array of advantages.
Corporate Settings
Display solutions are ideal for collaboration and strengthening corporate communications. They help to enhance efficiency, productivity, and safety within the premises. Deployments commonly take place in the lobby, boardrooms, conference rooms and showrooms, and are used to impress clients, visitors, and shareholders. Product portfolios, sales performance, project and program status, team building, branding efforts, event scheduling, wayfinding, employee directory and recognition, websites, videos, safety and policy guidelines, and message boards are common among successful communication initiatives. Some corporations even use their message boards as a lost and found the directory, solving subtle nuances in the workplace and creating an overall improvement to corporate ecology.
Food Service
Touch displays allow customers to sort through menus, place orders, take advantage of offers, and even transact. Consumers prove to be highly responsive to media-rich experiences, such as images, video, and scrollable text descriptions; desiring to sample a greater portion of the menu which enables the potential for increased sales and repeat visits. Restaurant owners find the ease of offering new promotions, breakfast and lunch specials to be an additional benefit of a digital system. Themes, branding, special events, and even menu content can also be easily adjusted without additional costs for those restaurants which host private parties or frequently change the menu.
Educational Settings
Digital whiteboards and interactive displays are attractive in campuses and universities. They help to improve the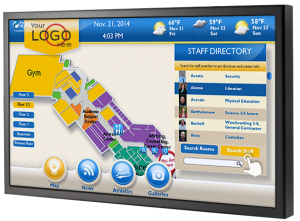 learning process and encourage students to participate, improving collaboration between teachers and students. School-wide communication and safety are increased as well. Event schedules, policies, staff and class directories, wayfinding-campus and local area, resources, message boards, lost and found, branding efforts, visitor welcome, and quick information kiosks are highly common in universities across the world. Touch screens and special software prove to be an invaluable resource for programs which are dedicated to the continued learning of students with disabilities.
Health Care
Hospitals utilize touch screens to allow visitors to locate quickly appointments, find departments, and stay up to date on the latest health care programs. A wayfinding system can tie directly into an existing database to provide up to date information regarding schedules for clinics, physicians, and other meetings. Typical uses include multi-building wayfinding, service directories, health and nutrition guidance, support groups, branding initiatives, history, bus schedules, and other user experiences which are designed to help alleviate the stress of a hospital visit. Hospital operations require tremendous commitment from the staff; therefore internally directed touch screen tools are also popular such as staff and patient scheduling, task lists, and other internal communications.
Public Information Services
Interactive touch screens provide invaluable information to the general public. Libraries, transit centers, and government offices such as court houses and post offices now deploy touch screens to help visitors find information. A broad variety of applications are supported, including wayfinding, service directories, event schedules, news and reminders, policies and forms with printing capabilities, registry and sign-in. Entertainment venues and museum exhibits also deploy touch screens to guide, inform, advertise, and entertain visitors. These media-rich touch screens are unparalleled in effectiveness for conveying the spirit and intent of the venue through digital means.

Hotels and Hospitality
Interactive touch screens allow guests to access information and check themselves in from the lobby,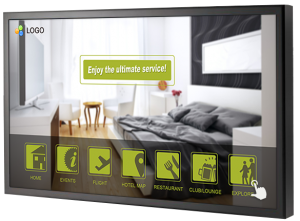 lounge areas and even their hotel rooms. They can display guest loyalty programs, flight information, check-in/check-out protocols, stock tickers and other web widgets, onsite wayfinding, and local area amenity maps to enhance a visitor's experience. Additional common uses include meeting room schedules as well as tie-ins to local convention centers or other nearby event systems. The hospitality industry requires the utmost adherence to branding standards, and these requirements are often met with specialized fonts, designs, photography, and videos to create the most aesthetically pleasing balance.
Casino and Gaming
Gaming venues are recognizing the value of replacing the traditional table games with touchscreens as downtime reduction, and cheating have proven to be minimized. These screens can be used for poker terminals, loyalty redemption kiosk, and entertainment displays.
Payment and Ticketing
Touch screens serve a purpose in payment centers, movie theaters, airlines, entertainment venues, payment kiosks, etc. It also reduces the chaotic environment of a full payment and ticket venue.
All-Inclusive Touchscreen Solutions
We offer a broad range of interactive touch screen solutions. All of our displays are tailored to match customer's standards and the demands of their environments. Whether for entertainment, informational messaging, advertising, or wayfinding, our solutions can transform and enhance the experiences of visitors.
Being a full-service provider, we'll work with you to find the best solution that meets your needs. Contact us and schedule an interactive demo to explore how touch screens enhance your communications, engage your audience, boost productivity, and conserve money at the same time.