When creating the content for every solution we follow a 4 Phase Design process that requires your review and sign off.
This comprehensive process leaves you; our customer with complete control and a solution you're proud of.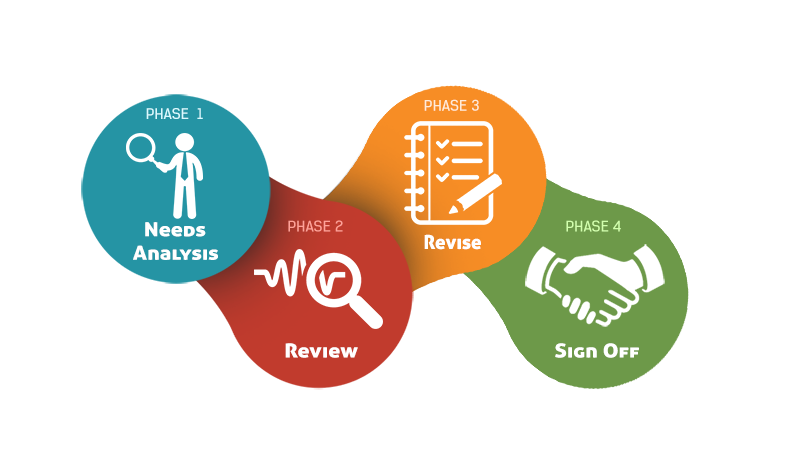 - We research your establishment to learn about your organization, products, & services.
- We then have an initial discovery call with you to identify clearly your objectives and needs.
- After the call, we draft a set of concept designs and send them to you for review and feedback.
- Upon receiving your response, a full-color mock-up is completed and sent to you for review.
- Based on your feedback of the full-color mock up we make changes to the layout and its media.
- When completed, we will have a short review call to review final full-color mock-up.
- On the call, we will focus on how we can fine-tune the design, to exactly meet your needs.
- Improvements talked about during our Review Call are made and sent to you for approval.
- If you request changes, we continue making adjustments until the exact Look & Feel is reached.
- The final design is submitted for your approval.
- Once the final sign off occurs, we will configure and test every component of the system.
- When you receive the system, a specialist will contact you for Step By Step Kick Off call.
- On the call, we guide you through non-technical setup and make certain all of your questions are answered.
During each phase of the design process, we review every detail with you.
The Right Combination of Eye-Catching Content
Pique your visitor's attention with an attractive layout of media assets and features.
Retain their attention with well written and accurate information
Appeal to your demographic with the right fusion of quality content and eye-catching design.
We are experts in creating the perfect balance of impressive engaging content!
Visually Compelling Images
Good images generate strong emotions, impulse purchases, and increase word of mouth advertising.
We are experts at merging images with user interfaces to create visually compelling pieces of art.
If you don't have images of your own, we can select from our huge stock library full of high resolution media
We have a toolbox full of graphic design secrets.
Impacful Colors
A lot is on the line when choosing the right colors to use.
Do the colors seem to perfectly blend together and accurately represent your brand?
Does the esthetic composition stand out; demanding attention?
We eliminate all the guesswork associated with color theory and application.
Eye-Catching Animations & Transitions
Motion draws attention.
We understand that too much movement is hard to see and can be overwhelming for the viewer.
Too little movement doesn't create enough impact.
When we create animation for your project, we pay close attention to timing.
We adjust the speed of every moving media component to create a graceful, yet esthetic composition.
This deep analysis breathes life into your message while enhancing its effectiveness and sense of elegance.
Custom Production
Your organization's brand identity, logo, colors, and images will be uniquely designed in all media we create.
Typography
The right font style communicates attitude and is a reflection of your organization.
Implementing the correct font is as much a science as it is an art form.
All fonts we select are easy to read and render beautifully on the screen.
Right Time at the Right Place
We maximize the impact of content placement by first understanding the needs of your company and target audience.
We then work with you to identify the location of the digital sign and consider how to best harmonize the design with the environment.
Lastly, we can schedule content to play at specific times & days.
This process ensures maximum congruence between demographic, timing, and location; improving the effectiveness and solidarity of your messages.