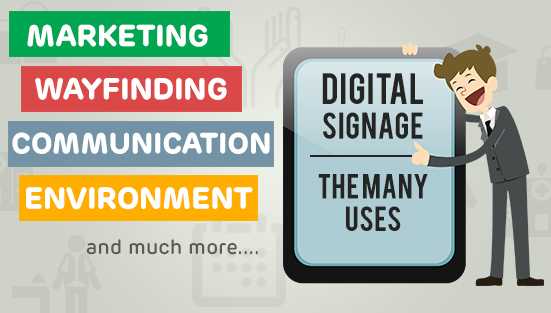 Today's consumers expect technology to enhance their lives. This is where digital signage plays a vital role, as it can be used by all companies and organizations - from retail to corporate and campuses to communities.
The use of digital signage has rapidly increased over the years. It is now becoming a communication standard for businesses and organizations, replacing static printed signs with visually dynamic and engaging displays. Many are taking advantage of the opportunity to capture attention and communicate effectively with customers, clients, guests, staff, passers-by, patients, and students.
Aside from the flexibility of deploying new information within seconds, digital signage improves engagement level; increases brand awareness, and influences purchasing decisions.
Some of the many uses of digital signage include:
Brand marketing
Digital signage cuts through the noise of typical marketing. It is often used to raise awareness, deliver a targeted message, and display valuable information. It offers an efficient way of attracting the eyes of passers-by, viewers, and customers, thus influencing their purchasing decisions.
Most retail stores often display their catalog in digital signage to deliver inspiration and assist in buyer's decision-making.
Product assisted selling
Digital signage provides a way to persuade customers. Business owners and marketing departments can display messages associated with a product or service. This creates an impulse purchase and leverages upsells.
Product assisted selling can also be used to promote third-party advertisements and products. For example, a large retail store can give options to other smaller businesses who want to bid for advertising space. Therein, the brand can be promoted in-store and drive sales using digital signage.
Wayfinding
Static directory signs and printed maps are common. However, these systems can be confusing and overwhelming for most people. By adding a kiosk or directory, people can find directions much more easily. Also, interactive maps can be added so that digital wayfinding offers a more engaging experience, and additional information such as event schedules and company profiles can be displayed.

Digital menu boards
The major benefit for restaurants is the ability to change content in real time. Digital menu boards allow businesses to display offerings, daily specials, and new products in addition to their menu. Information on the screen influences customer engagement and increases purchases at the point of sale.

Entertainment
Most people do not like waiting in line to purchase tickets. Placement of digital signage in lobbies, waiting rooms and event venues can liven up and transform an environment. Interactive digital signage can be used as in-store entertainment to attract the attention of viewers. Humor and light-hearted entertainment can add value to event venues, hospital and hotel lobbies, amusement parks, movie theaters and other public places. Promotional videos, short clips, and interesting information can all be displayed.

Internal communication
Communication is vital for every businesses and organization, but traditional posters and billboards are usually neglected and seldom read. Digital signage is the best way to deliver information in real time. Whether it is about a new policy, schedules, community, reminders, company, or meetings. Digital signage is the most efficient way to deliver important internal communications to staff, students, and the general public.
Public safety and security
Safety is a top priority especially in airports, malls, and most public places. With the help of digital signage news, weather alerts, and emergency situations can be displayed to help provide a safe environment. Emergency protocols and evacuation plans can be displayed throughout the premises, especially where people need them most, along exit routes. Digital signage is a powerful security tool that helps save time and potentially, lives.
Enterprise management
For organizations and offices with several branches and store locations, digital signage provides efficiency and consistent communication across all networks. Digital signage can be managed in a central location and messages can be delivered at the right time on multiple screens.
Across all industries, digital signage is continuously empowering with the sharing of information and applications. Deploying a digital screen can bring many benefits to your day-to-day operations and fulfill the communication needs of your business. From saving time and money to delivering messages in real time, digital signage creates engagement that stands out from the crowd - when you capture some one's attention with digital signage, the benefits are limitless.