Is your company on board with the digital transformation, but have no idea about it yet?
Well, if you have no idea about what digital transformation is all about, you are not alone. Even if this is a hot buzz around the globe, some are still unsure where they fall on the digital proficiency scale.
Still, this is a key term that businesses need to focus on, understand, embrace and lead.
Why Digital Transformation Matters?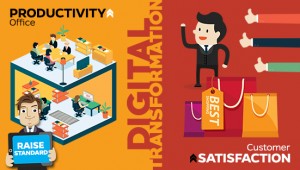 Digital transformation is a powerful business driver - it involves re-alignment of technology and business models to effectively engage with digital customers at every touch point in the lifecycle. This refers to the use of technology to radically improve performance or reach of enterprises. It is a fundamental requirement for how companies do business, and it is impacting the way we live, engage socially, and a lot more. Digital transformation bridges the gap between what customers need and what companies can deliver.
Those who understand the role of digital transformation in their business are already setting ways to redefine the way they work in this current digital era. Early adopters, especially those in the consumer-oriented industry, have embraced this technology as an opportunity for competitive advantage.

Is your Company On Board with the Digital Transformation?
When a company makes a digital transformation, they are making the shift from a legacy approach to using digital, mobile and other emerging technologies; the better way of doing business.
Here are guides to check to see that digital transformation is currently underway:
1. The company's digital needs extend beyond the IT and marketing departments and have become a top priority.
2. The company is changing how products and services are delivered by integrating customer and business ecosystem-feedback into the process.
3. There is innovation when it comes to crowdsourcing and data - anticipating and predicting customer needs, market changes, etc.
4. The company is more responsive to market needs and adapting through intelligent business operations.
5. The company has taken the initiative to delight customers with richer experiences such as the use of interactive displays and mobile functionalities.
6. There is ongoing research for customer digital touch points and customer-facing technology systems to deliver integrated experiences.
7. There are specific digital initiatives in the company that measure business value.
8. Your employees are bringing up more ideas and are using new channels and digital components.
9. You notice a shift in competition from large firms to smaller start-ups that are more digitally-inclined.
10. Website updates and changes in the company's digital properties are already underway.
In totality, you are convinced that digital technologies can help improve your customers' experience with your brand.
If you see any one of the above-mentioned signs in your company, then you can say that digital transformation is already taking place. Therefore, if you are not already in the middle of the change, then it is time to plan a strategy to catch up with reality. Take a measured, customer-focused and results-oriented approach, and create a strategic framework that will impact your digital activities.
Also, set concrete success metrics and an aggressive path forward. The more you align your digital activities with your business goals, the more successful your digital transformation will be. In turn, this will bring quick wins and long-term advantages.
Let digital transformation deliver significant results in the way you work, communicate and sell. This is not just about increasing your digital investments, rather, it is also about living, thinking and working "digital first."